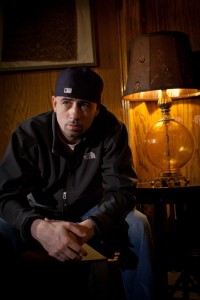 Through a cloud of smoke appears one of Hip Hop's most rare and undiscovered gems, a raw talent with a venomous tongue known as Jay Love.
Born into a long line of musicians, it was inevitable that music in every shape, genre, & form played an integral part in his life.
"To me, music is a necessity, like food. I have to load up my ears and feed my soul with it. People always ask me how I got into rapping and who my influences are, and I always tell them wack rappers. These phonies who infiltrated the culture I fell in love with and replaced clever metaphors with nonsense, interesting wordplay with one syllable rhymes, and chopped beats with a sample of their cat running across a keyboard. I do what I do out of frustration, knowing I can do it better."
Breaking into the underground rap scene toward the end of what he refers to as the "Golden Age" of independent hip hop, Jay Love released his first 12″ record in 1998 with his producer, The Avid Record Collector, and fellow emcee Born Talent. Constellation featured the instant underground classics, "Tagz Up" and "For All the Heads". It was released on his own imprint, Golden Apple Records.
Attempting to strengthen his label, Jay Love put out a mixtape of original samples courtesy of The Avid Record Collector. The widely successful mixtape was known as, "The Essence". Then, reuniting with his college drinking buddy Louis Logic, The Odd Couple was formed. In 2001, The Odd Couple released the "Pimp Shit" b/w "Por Qué" single on Solid Records/Golden Apple Records. The record was an immediate success and spawned the notion of putting together a complete album.
In October 2004, The Odd Couple LP, Alcohol/Ism hit shelves worldwide in stores with the assistance of Brick Records and Traffic Entertainment Group. The album was well received by the public, however never garnished the attention it deserved due to internal conflict. Subsequently, the tour to promote the album was cancelled and whatever momentum the Odd Couple gained screeched to a halt. The album would later go on to be voted "one of the most slept on Indy albums of the decade".
In the meantime, Jay Love has made several music videos including Today (A Tribute) which was featured on MTVu as well as Video Music Box. He has collaborated with Equinox, Cimer Amor, Rise, Born Talent, Celph Titled, J-Zone, F.T. and more. He also continues to release remixes, throwaways and freestyles via JAYLOVE.NET.
After a long hiatus, Jay Love has returned to music full time and is geared up to release his long awaited solo debut album which is scheduled for release in 2015.
Excerpts from the album were featured on TLC's, NY INK, which premiered June 2nd, 2011.